Software Project Exploration Discussion
Your path to improved business productivity.
In a project exploration discussion, we seek to understand the business process or application you wish to improve. We enjoy exploring the opportunities and offer ideas to improve your business process based on what we learn during our discussion.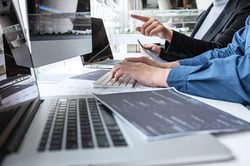 The value our clients gain from a project exploration discussion originates from years of IT software development and deep experience with the Microsoft technology stack and other valuable development resources.
During our project discussion we often help clients better define their project, organize their thoughts and gain immediate value from this initial discussion. Furthermore, you will gain insight into how we work and our process for success prior to a formal engagement.
Complete the form to the right to schedule your project exploration discussion.