ASP.NET Software Development Outsourcing
Your path to high quality experienced ASP.NET software development.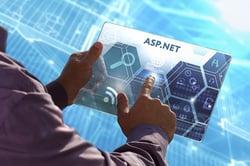 Many businesses who are developing ASP.NET applications in house often have the need to gain more resources, don't have any resources, or desire to partner with an ASP.NET development company to ensure ready access to skilled resources for updates and maintenance of their business applications.
Our clients benefit from deep experience with ASP.NET since its inception in 2002. Since most of our development work is with ASP.NET our team is always current with the latest .NET development tools from Microsoft for productive web application development.
Because of the experience of our team, clients gain ideas and development strategies that make their application higher performing. What's more, the additional resources enable a business to be faster moving and respond to changing business dynamics.
Complete the form to the right to schedule your ASP.NET software development outsourcing discussion.